Invite Friends
Julia Johnson (solo) and Amaringo (trio) are taking the stage at Midnight Special to preview new music from albums they've each been working on. Spend the crisp Autumn afternoon with them in comfort and contentment. Free entry.
Julia Johnson (solo)
Julia Johnson has been compared to Florence, Joni, and even a 'treacherous mountain river'. Her confessional folk music draws from alt-country and Scandinavian influences. On stage, intricate fingerpicking makes way for swells of
effected autoharp. Johnson has supported iconic Australian artists including Courtney Barnett, Tim Rogers, Jen Cloher, Bob Evans, as well as performing at festivals such as Groovin The Moo and the National Folk Festival.
Amaringo (Trio)
The project of guitarist/vocalist Allie Wu Lin, Amaringo create delicate, expansive freak-folk from the simplicity of two guitars and ethereal vocals. The band's former incarnation in Brisbane as an indie psych rock duo has recently evolved alongside Wu Lin's artistry, with echoes of laurel canyon folk now foregrounding the tinges of psych. Amaringo's previous album "I Woke Up This Morning After a Dream" (Healthy Tapes) was feature album on Brisbane's 4ZZZ.
Free Event
Doors @ 4
Music from 5
View full details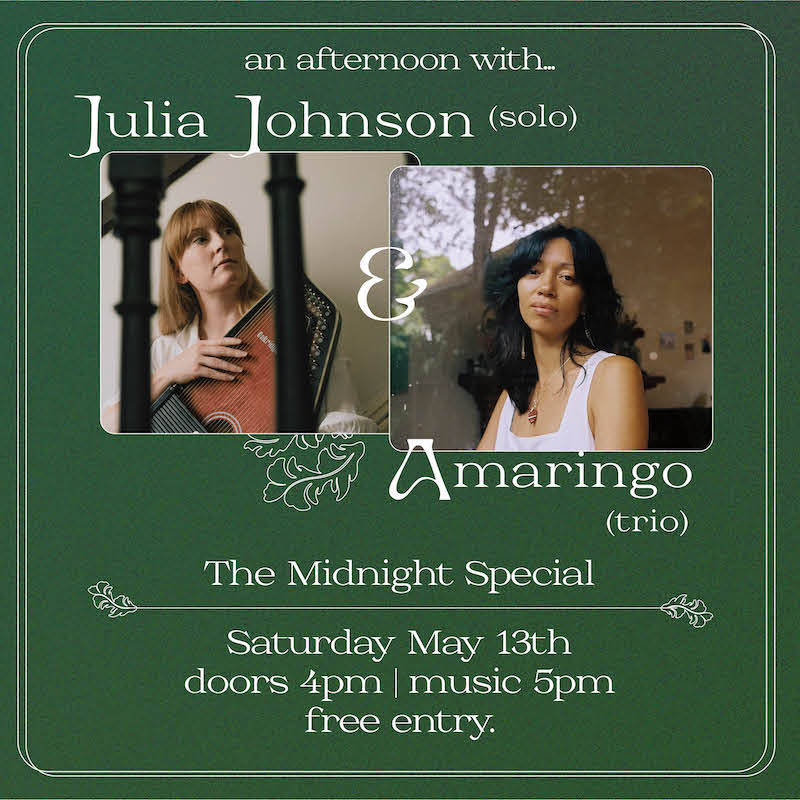 Julia Johnson (solo) and Amaringo (trio)
Julia Johnson (solo) and Amaringo (trio) are taking the stage at Midnight Special to preview new music from albums they've each been working on. Spend the crisp Autumn afternoon with them in comfort and contentment. Free entry.
Julia Johnson (solo)

FREE ENTRY
Regular price

Sale price

$0.00

Unit price

per

Regular price

Sale price

$0.00

Unit price

per

Regular price

Sale price

$0.00

Unit price

per